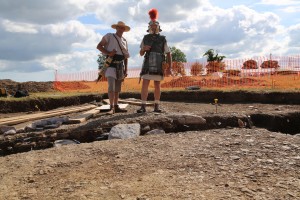 We're looking forward to seeing everyone at our open day tomorrow (Sunday 25th June, 10.30am to 3.30pm)! There will be guided tours of the excavation, children's activities, refreshments, history- related stalls, and Roman re-enactors from Isca Romans and the Vicus- who will be celebrating the Roman festival of Fors Fortuna!
A few things to bear in mind:
-The excavation is in a privately owned field and the landowner has very kindly given permission for public access only between 10.30 and 3.30 on Sunday 25th June 2017.
-Please try to car share if you can, to limit the amount of parked cars in the landowner's field.
– Please note that the ground is uneven, we are exposed to the elements, and there are no facilities (although we do have a limited number of portaloos).
-Please wear sturdy footwear and outdoor clothing appropriate for the weather including waterproofs and sunhats etc.
We look forward to seeing you tomorrow!