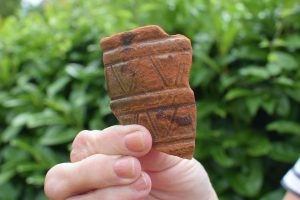 We're starting the last week of the dig with an exciting and incredibly rare find for Devon!
This pottery sherd is likely to be a type of Romano-British pottery known as "South East Glazed Ware". It's thought to have been produced in South East England in the later 1st and 2nd centuries AD. We are currently consulting pottery specialists for further identification but so far we think that this is possibly the furthest in the South West ever that this glazed type of pottery has been found.
Archaeologists have sent the sherd over to the Hub today so members of the public can see this rare find. It will be on display until Thursday 29th at Ipplepen Methodist Church on East St, Ipplepen. Don't miss out on your chance to see it fresh out of the ground!