It has been a busy last week on site. Cleaning up the features, getting plans and sections drawn, photographs taken, context sheets recorded. On top of that we have been wet sieving our soil samples on site, washing finds, and sorting them by context and find type, as well as marking up previous finds in The Hub. This week saw visits by Devon County Council, and various other dignitaries as well.
Tuesday saw a cow jaw come to light in the roadside ditch. This was particularly helpful for figuring out the stratigraphy in that area, since it was obvious from the way in which the jaw rested how the earth sloped. This also meant that we had finally exposed the bedrock of the site, being at the bottom of the ditch. Tuesday was also a particularly warm day, so everyone was very grateful when some ice lollies were brought up on site!
Wednesday and Thursday continued in similar fashion, but with three more coins being found, taking the total of coins found during this season to more than 30: most of these coins were late Roman nummi, some of them were earlier. Thursday was the last day of archaeological work, and saw final plans, sections, levels, contexts, and other records being finished. We were really pleased to get everything finished that was needed.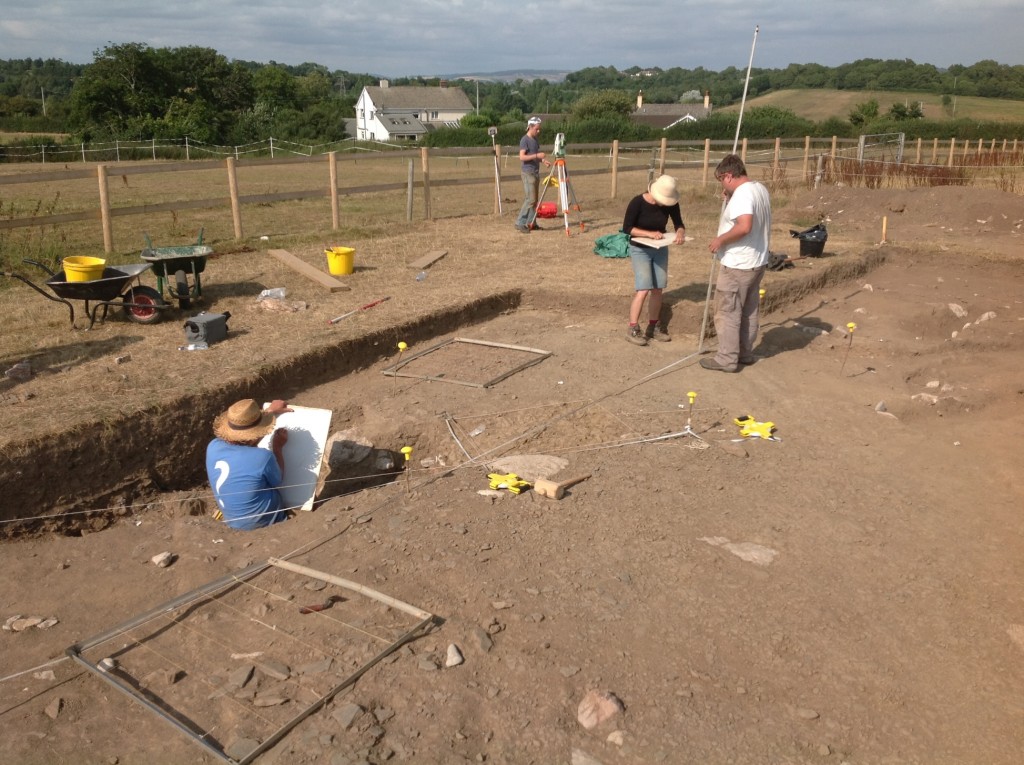 Friday saw the inevitable happen; firstly, the site being back filled as we came to the end of our 2014 season; and secondly, the weather taking a turn for the worse.
It was all hands to deck as small finds were re-bagged and ordered by fill context and find type; wet sieving was completed; trestle tables were packed up; the site office emptied, and the site tent cleared. Some surprise cake brought onto site by Danielle was much appreciated, especially in the pouring rain! After many hard hours of clearing, moving, sorting, and sieving, the site was ready to be vacated.
After 4 weeks of excavations at this site, it was quite sad to see it being backfilled by a mechanical digger, but nevertheless, we can rest easy knowing that we achieved what we set out to do!
All that remains to be said is a massive thank you to all of those involved, from the volunteers, local and far-flung; students and supports, and our benefactors. Further thanks go to Imogen Wood, John Davey, Danielle Wootton, and Sian Thomas for their expertise and practical assistance, and to Ioana Oltean; the British Museum, the Portable Antiquities Scheme, Devon County Council, the University of Exeter Annual Fund, and Torquay Museum, without whom and without whose support, this year's excavations could not have taken place. Our final thanks go to the landowner for allowing these excavations to take place.
Until next year!
In the meantime, be sure to check our Facebook and Twitter pages for occasional updates…