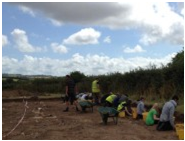 Finally got the 2013 Ipplepen blog up. So to start with, a catch-up on the first two days of work.
Work started on the 29th, and after everyone had arrived (first year students from a local campsite, local volunteers from nearby and the site supervisors), various tasks were handed out. In the morning first year archaeology students were given a crash course in the use of surveying equipment and other members of the team were taught how to use GPS equipment whilst the machines cleared away the soil used to backfill on last year's excavation. By the afternoon the machines had cleared enough soil away for us begin cleaning up the site. Whilst this was going on a few volunteers were starting to set up the Hub.
Day two saw the continuation of the site's cleaning, with the machines finishing their removal of the backfill from last year's excavation. The Hub also opened to the public, with a total of 18 visitors, and plans to be open from 9.30 – 16.00 Monday to Friday, please do feel free to drop in.