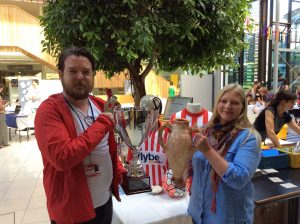 On Saturday 17th June, Chris Smart and Danielle Wootton attended the 'Think-Art' family open day organised by the University of Exeter Arts and Culture team, which was organised as part of the University's 'The Observatory' exhibition (details below). Alongside some beautiful, amazing and thought-provoking artwork by artists, we displayed brilliant community paintings made by pupils from both Ipplepen and Abbotskerswell Primary Schools, pottery from Sands Secondary School in Ashburton, and our dig 'mascots' painted by Ipplepen Dramatic Society's set painters. The day was very inspiring and it was a great opportunity to engage with the different research projects taking place across the University as well as having the opportunity to talk to the public about our exciting excavation and forthcoming open day.
Info on The Observatory:
The Observatory: perspectives on landscape, society and spirit is an exhibition of artistic responses to the key research themes of the University.
The University is a place of learning and also a place of research. Artists from across the region were invited to submit works for this exhibition that respond to the idea of 'observatory' as a channel for exploring a certain type of vision, investigation or view. The theme is open to interpretation and artists explored and investigated specific areas of research at the University of Exeter as inspiration for their work.
The University's research takes placed in teams combining a wide variety of topics from the distant reaches of the universe, to conditions in our own localities or our own minds, bodies and societies. This free exhibition showcases selected works from those submitted, reflecting the diversity of research at the University.