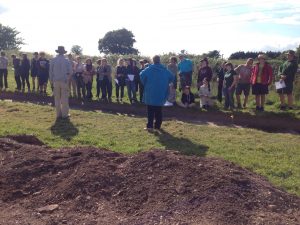 The excavation
Today on the excavation the team worked hard excavating the features and working their way through the spoil heaps. The team enjoyed Professor Rippon and Dr Davey's end-of-week summary and site tour, which provided a good overview of the site. By the end of the first week, the team had cleaned up the trenches and could see lots of features. This week they spent a lot of time planning, then excavating sections across features including post holes, and both linear and curvilinear ditches. They have been drawing, photographing and planning these features and creating context sheets for the features and finds. A lot of work happens outside of the trench, washing and processing finds, and interpreting the pottery, features and site. We are looking forward to the upcoming week, where we hope to start interpreting the features to understand this area of the site (please keep following for updates..).
Many thanks to Mary, Hilary, Dalton and Andrew, this week's enthusiastic volunteers, who wanted to stay longer! Dalton said "I wish, I could stay longer." Andrew also wanted to continue excavating, saying "when I start something, I want to finish it!" Thanks for all of your hard work, and we hope you can join us again soon.
The Hub
We had some more keen local visitors, and some from further afield who had seen the site on BBC2's Digging for Britain. Visitors enjoyed taking a closer look at our handling collection and finds. Thanks to the great after-school group from Ipplepen Primary School for coming in and getting involved with our Roman inspired activities. We will be back in the Hub on Monday, but you can keep up to date with the site in the meantime on this blog.