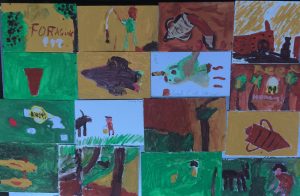 Abbotskerswell Primary School visit, Friday 19th May
Last Friday, Danielle Wootton visited Abbotskerswell Primary School to talk to Kingfisher, a class of 32 pupils from classes 4, 5, and 6, about the excavations at Ipplepen. The class learned about what had been discovered at Ipplepen, and discussed methods of food production in the Romano-British period, examining what plants were available to grow as crops, and how food was prepared, stored, and traded around the Roman world. The class also participated in a Roman food quiz, examined real and replica Roman pottery and tried a Roman 'feast'. Kingfisher have been learning about Mayans with Mrs Kerswell, so we also discussed the similarities and differences between Roman and Mayan foods.
In the art section of the workshop, pupils chose a theme relating to Romano-British food such as growing crops, foraging, honey, food storage and cooking. The photo (above) is an example of some of the fantastic artwork produced by the class during the workshop. Artwork from both Abbotskerswell and Ipplepen Primary Schools will be on display at the Hub at Ipplepen Methodist Church, weekdays from 6th– 29th June.
Danielle also had the opportunity to talk about the excavations with the headmaster and other teachers, and we hope to find a way to involve Abbotskerswell Primary more in the future!